2020 Pledge Form
It's that time of year again! I know how most of you feel and I can empathize with the young families, my wife and I have been there.
What are we supposed to give? Why do we need to give? How much? Why do they need this? Where does this money go? Who can we talk to? These are all questions, among others, that we asked ourselves way back when our kids were of the 'Sunday School age'. We struggled from time to time to make ends meet and putting a few dollars in the plate on Sundays was always a challenge.
As the Stewardship Chair, I would like to address these questions as we begin our drive for pledges for the 2017 year. Generosity is a gift, but sometimes it can be scary. We want to help, we want to give, however, concern if we are giving enough or often enough or do we need to give at all often enters our minds.
It can be awkward and uncomfortable, I understand. I am asking you, our members, for your help, for a financial commitment to your church...now that's uncomfortable for me to ask! But that is the truth, it is the reality...We, Good Shepherd, need your financial help, as well as your talents to make this whole thing we call "Church" operate and grow.
I mentioned several years ago when my children were little, we struggled to put money in the plate. At that time we did not have Simply Giving or the online option to give. But as we grew with the church and understood why a commitment from us was needed, we got involved with the Simply Giving option. With this option working for us, we were able to lock into one figure and give it every week, even when we were not in attendance! Regardless of the size of our donation, it was a Great feeling to know we were giving every week. It strengthened our relationship with God and Good Shepherd.
The truth is, We Need Your Help, Your Commitment. As you all may have noticed, we have plans to expand our Church and that is going to take a huge commitment from all of us as members. But aside from the big plans for the building, we do so much more at Good Shepherd. We give to so many organizations, groups, and people in need and in the end, that is what Generosity is all about...helping those in need. The places we helped out this year were: Brighter Tomorrows, Lutheran Social Services, Plainview/Elgin Food Shelf – 4 times a year (our Lenten services and Advent services offerings also go here), Good Earth Village, Wabasha County Youth Mentor Program, Lutheran Campus Center in Winona, The Sandwich Man, and the Blue Star Mothers.
Proverbs 11:24: 'One gives freely, yet grows all the richer; another withholds what he should give, and only suffers want' I'm asking all of our members and families to put some serious thought into what you can give. Please talk and pray on it and take a look at the Good Shepherd website and consider the online giving option or Simply Giving. Consistent giving, no matter what the amount, would make a huge impact for our Church and our future.
Great things are in the works for all of us here at Good Shepherd and God is calling on us to make it possible. Your are all in my prayers. God Bless all of you!
Todd Rau, Stewardship Chair

Manual Statement of Intent.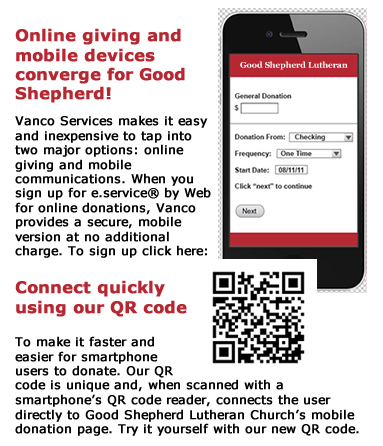 Once on the Vanco site, you will be given a step by step process:
Create your profile – email address, name, bank routing number and the account you wish to draw from and password etc.
Select your preferred start date, donation date and frequency (weekly, monthly etc.)
Select the fund(s) you wish to contribute to: General, Building Fund, Youth etc.
(You can alter your contribution at any time by going to this site)
If you have any questions, please contact the church office or Tom Anderson – 507-993-8236 or Tom.plainviewfbm@gmail.com.
Thank you for contributing to the ministry of Good Shepherd Lutheran Church!
Simply Giving – automated contributions facilitate planned and special contribution of a weekly offering envelope. Download a Simply Giving Form.

Time and Talent Form connecting with Good  Shepherd members to identify and match up gifts & passions with opportunities to serve within the church and community.
Youth Time and Talent Form available for youth grades 7 through college.
Electronic form to fill in and return via email Standard form to print out and return in person or via the mail.