Welcome to Good Shepherd Lutheran Church of Plainview, Minnesota. The Chili & Chicken Noodle Soup Cook-off is Back!!
Save the date for this community event hosted by Good Shepherd: Wednesday, November 16th, from 5:00-7:00 p.m. A free-will donation
will be taken, with proceeds going to the PEM Food Shelf. We will be asking for volunteers to provide chilis and soups and to assist during the
event. Watch upcoming weekly emails for details & sign-up informatin.  Visitors are welcome and expected!



Good Shepherd Education News
Passing on the Faith
Whew! Lots of Passing on Faith Ministry is happening at Good Shepherd! Sunday school is up and running with 18 awesome teachers and helpers! It's exciting to have so many middle and high school youth involved also.
Three year old's received Bibles and are learning how to use them.
Parents and 7th-8th graders have kicked off Confirmation.
We have a strong team of mentors and parent leaders every week.
We have about 95 kids (preschool-6th grade) enrolled in Sunday School!

Bedtime Bible Stories
On Wednesday, Sept.14th, 3 year old's received their own Beginner's Bible and met their Sunday School Teachers as part of their faith journey.

5th-6th Grade - Playing with Fire
October 16th
Students & Parents will learn about worship & acolyting at this milestone at 10:00 a.m. Once you've practiced, you can sign up to be an acolyte.

Coffee Shop is Back!
First coffee shop of the year will be on October 9th. Coffee shops will be hosted by youth after worship on the second Sunday of the month. Sweet rolls, flavored coffee, and hot chocolate will be offered. Money raised will support the youth trip and other youth ministry.
High School Ministry
Sr. High Youth – (Grades 9-12)
Wednesday, October 12th 7:30 –8:30 pm
Hide & Seek—Refreshments-and more!

3rd –4th Grade:
October 9th at 10:00 a.m.
Using Your Bible
October 9th at 10:00 a.m. parents and students will gather for this milestone. We'll practice using their Bibles and learn about how they can shape our lives.
Super Hero Summer Service!
During June we held 3 "Super Summer Service" days for our Jr. and Sr. high students to serve in the community. The youth had fun hanging out together and reaching out to organizations in the community. These are some of the areas we served. Thanks to the adults who participated & drove!!!!
· Good Earth Village landscaping
· Elgin Food Shelf
· Channel One bowls
· Good Shepherd Wednesday worship meal
· Washed all church windows inside and out
· Completed the new worship bags
· Help at Tesmer's farm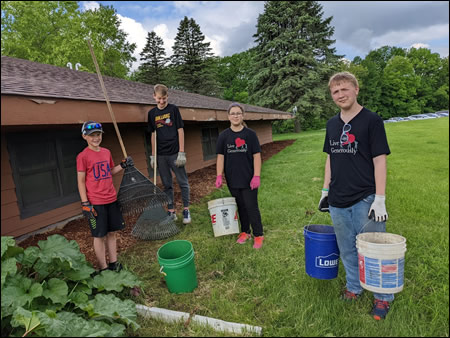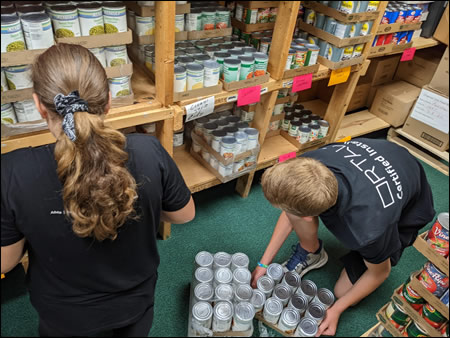 God's Work, Our Hands
World Relief Personal Care Kits
Lutheran World Relief personal care kits—start gathering the following items. On October 23rd, the whole congregation will work together to pack these and do other service  our community and world.
Service Opportunity October 23
 The whole congregation (SS kids, youth, and adults) will join together during the education hour on Sunday, October 23rd to do service projects.
Pack personal care kits for Lutheran World Relief. These kits will go around the world to where people are suffering from natural disaster or violence. A collection box is located in the narthex.
Write letters to veterans and active military members
*We have started collecting school supplies to fill the shoe boxes that will go to children in 3rd-World countries. The boxes will be delivered to a pick-up site in November, but for now, getting the boxes filled is the goal!
Here are the quantities of items needed yet to fill 80 boxes:
Calculators 49
Colored Pencils 45
Composition Books 55
Crayons 41
Erasers 26
Pencil Pouches 15
Large Scissors 20
Pencil Sharpeners 60
Soap 53
**The boxes include many other items, but this is what we're short on. There is a bag at church to hold donated items.

The Chili & Chicken Noodle
Soup Cook-off is Back!!
Save the date for this community event hosted by Good Shepherd: Wednesday, November 16th, from 5:00-7:00 p.m. A free-will donation will be taken, with proceeds going to the PEM Food Shelf. We will be asking for volunteers to provide chilis and soups and to assist during the event. Watch upcoming weekly emails for details & sign-up information.

2022 Offering Envelopes
Request Them If You Want Them!
Envelope usage is down considerably due to growing use of online giving options like Simply Giving and website payment. This year, we will only be ordering offering envelope boxes for the families who want them. So, if you wish to have offering envelopes for 2022, please email or call the church office. Additionally, if you would like to convert to electronic giving, Tom Anderson can help you set up that simple process. Thanks!
Considered Online Giving?
Simple – Convenient – No cost – Full Control
One Time Gift or Regular Giving -- (Weekly or Monthly)
Steps:
Go to our Website page give
Select "Give" – Double Click on the Phone –
Follow the directions -
Once on the Vanco site, you will be given a step by step process:
Create your profile – email address, name, bank routing number and the account you wish to draw from and password etc.
Select your preferred start date, donation date and frequency (weekly, monthly etc.)
Select the fund(s) you wish to contribute to: General, Building Fund, Youth etc.
If you have any questions, please contact the church office or Tom Anderson – 507-993-8236 or Tom.plainviewfbm@gmail.com. Thank you for contributing to the ministry of Good Shepherd Lutheran Church!
How Can I Give/Help
II Corinthians 8:1-4  Paul speaking to the Macedonians: "Now ….we want you to know about the grace that God has given…for out of the most severe trial, their overflowing joy and their extreme poverty welled up in the rich generosity.  For I testify that they gave as much as they were able and even beyond their ability. In these difficult times, we learn to "Give", for in our Giving; be it a phone call, email, text, running an errand, providing a meal, etc. we receive so much more in return!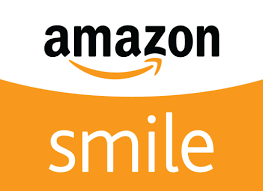 Remember to use AmazonSmile
when you do your shopping!
Amazon donates 0.5% of the purchase price to Good Shepherd Lutheran Church: https://smile.amazon.com/ch/41-1323971 and support Good Shepherd every time you shop.

Check here for all the latest Good Shepherd Events!
WORSHIP: will continue with one service at 9 a.m. in the building (except for Sept. 11—see below), the parking lot on 88.3 FM, and Facebook live.
Videos of the services will continue to be provided on:
· Facebook page
· Good Shepherd Lutheran Church, Plainview, MN Youtube page
· Midcontinent: For those living in Plainview, cable channel 20 (during the week)

EBENEZER SUNDAY

Ebenezer Sunday—where we thank God for bringing us through another year and pray God's blessing on the coming year.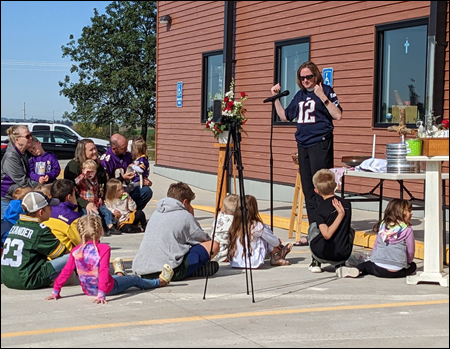 Sunday School Kick-off: "Mission Possible"
SUNDAY SCHOOL-10:00-10:45
7th & 8th Grade Confirmation Ministry
All 7th and 8th graders are invited to be part of Confirmation. We meet on Wednesdays for food and faith from 6-7:30 pm. A􀅌er a simple meal provided by parents, the youth meet in large groups to study the Small Catechism and small groups to talk about faith in everyday life.
Confirmation Kick-Off will be Wednesday, September 7th from 6:00 - 7:30 p.m. All students AND parents will gather at 6:00 p.m. for a meal. Plan to contribute $5 per person for the main dish of spaghetti. Please bring a side or dessert to share and a beverage. We will look ahead at our year together.
ADULT EDUCATION
Open to All!
* Monthly Tuesday Bible Study—"Travels With Jacob" September 20th from 1:00-2:00 p.m.
*Sunday Mornings –starting September 25th—10:05 a.m.—"Angels"
What do angels look like? Do angels have wings? Do Angels protect us? What do they do? Do we become angels when we die? Come discover what the Bible has to say about angels.
Sunday School Teachers
We give thanks to God for the awesome leaders who will be teaching Sunday school this year! Please keep them in your prayers as they commit to sharing stories of God's love with our children and youth. We s􀆟ll need partners to work with teachers already committed to the Preschool 1, Preschool 2-Kind, 1st-2nd grade, 3rd-4th grade and 6th grade class. (Team teachers share the job so they don't teach every week.) Talk to Carole Joyce to volunteer or find out more! Do you know anyone who would like to be a helper? High school youth and adults are welcome. Talk to Carole
Joyce to find out where helpers are needed.
All Sunday school teachers and helpers will meet on Wednesday, Sept 14 at 7:00pm. This is an important time to learn about students, curriculum, and the year. Most important, we will pray for our children. Plan to attend and contact Carole Joyce 269-9374 if you have questions.

Book Club
Our book this month is Still Life by Louise Penney. Meet at 7:00 pm to discuss this first mystery book about Inspector Gamache. If you like it, you'll enjoy the whole series about this small quiet town and the compelling people who live there.
 2022-23 Books:
Oct. 13th "Still Life" by Louise Penney
Nov. 10th "The Nightingale" by Kristin Hannah
Dec. 8th *"News of the World" by Paulette Jiles
Jan. 12th "Lightning Strike" by William Kent Krueger
Feb. 9th *"The Great Alone" by Kristian Hannah
Mar 9th "Miracle Creek" by Angie Kim
Apr 13th "Once Upon a River" by Diane Shetterfield
May 11th *"The Big Finish" by Brooke Fossey
*Library Book Bag
VBS 2022 Treasured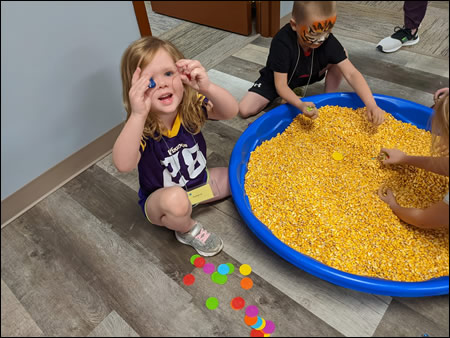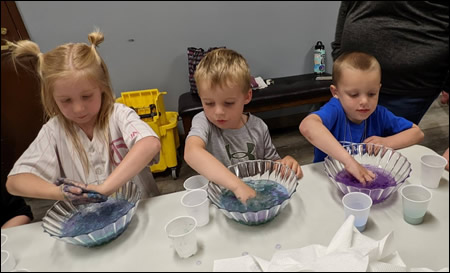 First Communion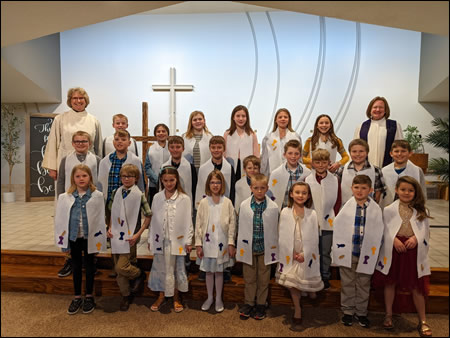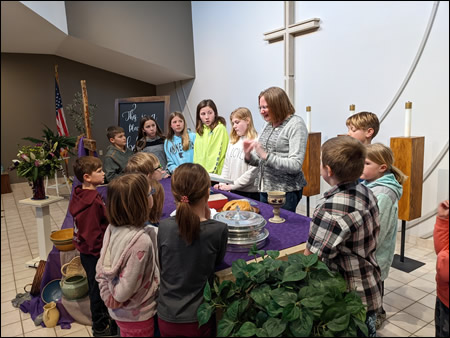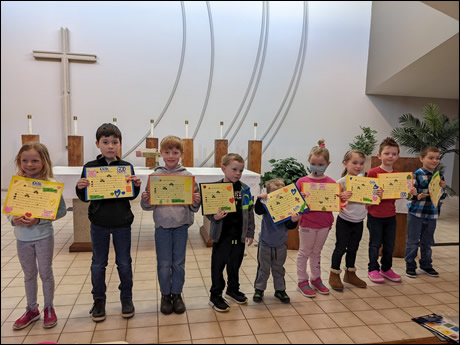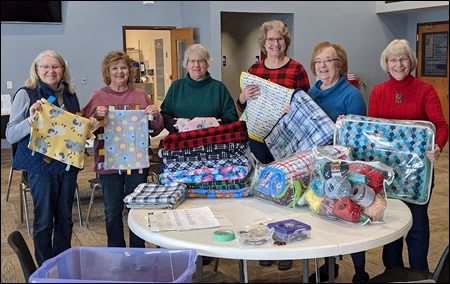 Blanket makers with Graduation and Baptism blankets.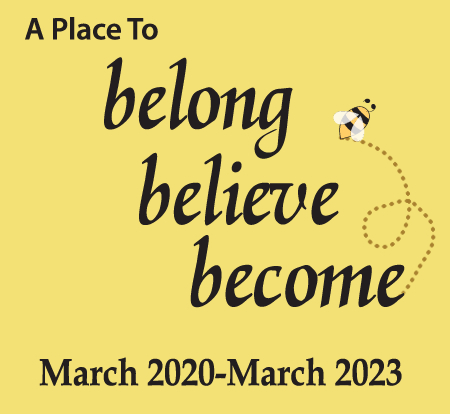 Please join us in praying for Good Shepherd and committing to our church's future through "A Place To belong, believe, become" campaign.
Thank you for your continued support and dedication to make Good Shepherd a great place to worship and the opportunity to build lasting relationships in a place with people we call our church family! Godspeed!