Wednesday Lent Soup Suppers & Holden Evening Prayer Services
Wednesdays March 1 – March 29, 2023 
Supper: 5:45pm
Worship: 7:00-7:30pm
Lent Soup Suppers Food sign-up 
ALL of the Wednesday night Lenten offering will go to the PEM Food Shelf. Please take this opportunity to help do God's work–feeding the hungry.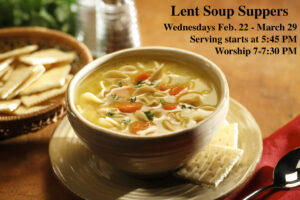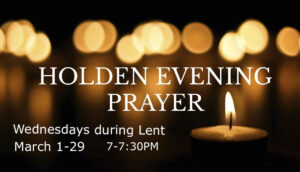 Palm Sunday Breakfast & Egg Hunt
Sunday, April 2, 2023
Enjoy breakfast, Holy Week activities and an egg hunt.
Breakfast: 9:30am
Egg Hunt: 10:15am

Rain or shine!
Bring your own baskets.
If you would like to

D

O

N

A

T

E

candy for the egg hunt, please bring it to the church by Sunday, March 26, 2023, at 9am.
Book Club
The book club meets the second Thursday of each month.
2023 Books:
January 12: "Lightning Strike" by William Kent Krueger
February 9: "The Great Alone" by Kristian Hannah
March 9: "Miracle Creek" by Angie Kim
April 13: "Once Upon a River" by Diane Shetterfield
May 11: "The Big Finish" by Brooke Fossey