Welcome to Good Shepherd Lutheran Church of Plainview, Minnesota.  You are invited to worship with us as we grow deeper in faith and deeper in service. We invite you to read our Mission Statement as we grow in faith. Visitors are welcome and expected! 


Wow! It's Worship on Wednesdays -
every Wednesday night at 7 pm. Now through August!
Blessing of the Backpacks

Wednesday, August 31st
All children, youth, and college students are invited to bring their back packs to church on Wednesday, August 30 at 7:00 p.m. for a "Blessing of the Backpacks". Invite your classmates to join us at Good Shepherd and bring their backpacks for a special back to school blessing.
7th & 8th Grade
Confirmation Ministry
Confirmation Kick-Off will be Wednesday, September 7th from 6:00 - 7:30 p.m. in the fellowship hall.
7th and 8th grade students and parents will gather at 6:00 p.m. Main dish is from Fazolli's for $4 per person. Bring a side or dessert to share if you'd like. We will look ahead at our year together.
High School Summer
Service Trip Chicago
You will see the world and your faith in a totally different way as we meet new people and reach out in service and love in Chicago. Check out some photos on the Chicago Page! 
Sunday School Registration
It's time to register for Sunday school! We will need ALL children to be registered prior to attending the first day of class on Sunday, September 18th. All children who are 3 years old (by September 1st) through 8th grade are encouraged to sign up. To help with the scheduling process, we would appreciate all forms be turned in by August 31st. You can register using one of the following options:
 Register on-line at http://goodshepherdlutheran-plainview.org
 Pick up a registration form in the church narthex.
 Complete a form emailed to parents with a valid email address on file.
Sunday, September 11th 
is EBENEZER Sunday!
(in other words "God is our Stone of Help")
10:30 a.m. -- One Worship Service of Thanksgiving
12:00 p.m. -- Share a meal together on the Front Lawn
Ebenezer Sunday is a day Good Shepherd has set aside to look back over the past year and remember all the ways God has helped us to grow in our ministry. We have many things to be thankful for and on September 11th we will name those things and recognize that our ministry isn't finished yet but we have come this far because the Lord has helped us. Join us and invite your family, neighbors, and friends as we raise our "Ebenezer" or "stone of help" and give thanks to God who is our "help" not only in times of trouble but always.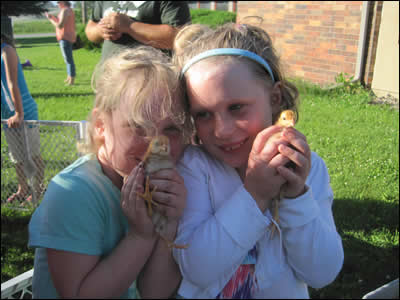 Vacation Bible School:
Barnyard Blessings
Thank you Mrs. McDonald for leading our openings and closings at VBS this week. You have some farm: camels, seeds, sheep, fish, and a SNAKE! Thank you RAD Zoo for being part of VBS last night! Thanks to add leaders, youth, and children who participated in Barnyard Blessings VBS.  For more photos, click here!